What Flowers Look Best in a Bouquet?
A bouquet is a big wrap of flowers done with the best flower arrangements. It is the best gift to someone special for expressing their deepest sentiments, love, gratitude, or sympathy. They are arranged in a beautiful manner with a bunch of flowers and leaves.
It takes artistry to hand-select the lively floral pieces and arrange them deliberately in a vibrant yet overlapping manner. The flowers for bouquets are versatile and have variant colors. It also pours soothing fragrances into the surroundings, which creates an enduring appeal.
In this blog, we will take a look at the various types of flowers that are best for arrangements. They ultimately help us choose the floral pieces for a beautiful flower bouquet. They are eye-catching and made up of fresh-cut flowers by selecting the ones that suit the occasion best.
Top Flower Choices for Bouquet Arrangements
Here, some of the best flowers for arrangements of a bouquet and other decoration purposes are mentioned below:
Roses
Roses are the most popular flower choice across the world. These are the most commonly used flowers for bouquets. They are available in various colors and fit the best flowers for arrangements of a bouquet. Each color rose has its own identity; the red rose symbolizes true love; the blue rose signifies a kind of mystery; the white rose is famous for its purity and innocence; and the orange one indicates passion.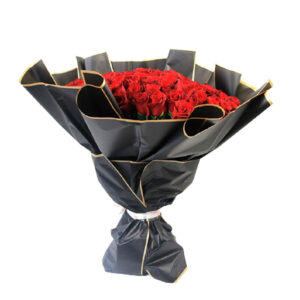 For instance, the rose bouquet is a perfect fit for many special occasions. Additionally, these flowers are easy to grow and not quickly perishable; hence, they are a great choice for making bouquets.
Hydrangea
A hydrangea is a cluster of flowers called a corymb. They are growing like blossoms. The hydrangea is accessible in a variety of colors, where each color symbolizes an emotion.
The blue hydrangea represents deep understanding and a feeling of forgiveness. The soft pink hydrangea evokes an emotion of delightful love. The white one is well known for its grace and abundance, and the purple one represents royalty and leadership.
The hydrangea flower bouquet looks adorable because of this lavish number of flowers, which infuses liveliness into the bouquet.
Lilly
There are many kinds of lilies, with various colors such as white, pink, yellow, orange, red, etc. The calla lilies are well known for their purity, devotion, and rebirth.
These flowers are the best-smelling flowers for bouquets and are very bold in color. The color of these flowers leaves a stain, which is difficult to clean. Hence, these are arranged very delicately with excessive care.
Tulip
Tulips have a wide range of colors. The most popular symbolism of the tulip is that it represents pure love. The fact that tulip flowers bloom in the spring signifies a new life or birth.
Additionally, colors have symbolic significance of their own, which is further enhanced when a color is associated with a flower. You can find the exact meaning you want to convey with tulips because they come in so many distinct varieties.
Sunflower
The sunflower, also known as Helianthus annuus, grows up in the early part of summer. These are very bold and yellow in color, which symbolizes loyalty, adoration, faith, and devotion.
They have a healthy and energetic vibe, making them perfect for blooming. The long stems of these flowers for bouquets help in a systematic floral arrangement. It provides a perfect base for the bouquets.
Matthiola
A matthiolia flower has a wide range of shades, from light to darker. Every different color flower has a different meaning, like the white matthiola, which speaks out for happiness. The pink and red symbolize a love bond, and the lavender one signifies the long life and contentment of life.
The matthiola is a flower that is also used as filler for any floral arrangement. These flowers only bloom during a few specified months, mostly in the winter. Therefore, one cannot appreciate Matthiola's beauty for the whole year.
Gerbera
Gerbera flowers are widely used in making flower arrangements for bouquets and also for other decoration purposes. These flowers are available in a variety of colors, which are the best flowers for arrangements.
Each color has a different meaning, like purity, innocence, cheerfulness, loyal love, etc. On top of that, different colors of gerberas in your flower arrangements can make the occasion more special.
Alstroemeria
The alstroemeria is also known as the Peruvian lily because of its similar star-shaped petal structure to the lily. They are dressed up in yellow, pink, white, purple, red, and orange colors.
Here, each color symbolizes a different meaning, like grace, purity, majesty, honor, and being beloved. The long petals of that flower with no fragrance make it easier to use with other flower combinations in a bouquet. Utlimately, it helps in enhancing beauty and the overall glance.
Carnation
The carnations have a clove-like fragrance, which creates a positive atmosphere. They are ornamental flowers, mainly grown in floriculture with excess care. It is widely grown for its fringe-petaled flowers, which are often used in the floral industry.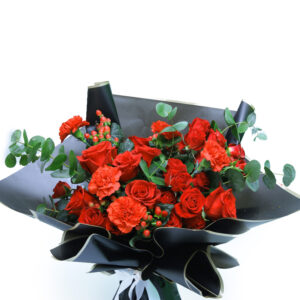 Additionally, they are very popular flowers for bouquets because their overlapping, beautiful petals add glare to the flower arrangements.
Delphinium
A delphinium flower is a popular choice for making bouquets. They have a wide spectrum of colors that evoke different symbols, such as blue, which signifies the big heart. The purple, which symbolizes dignity; and light pink, which indicates love and grace.
These flowers have grown around a stem like a knitted pattern, which is of a long extent. Hence, they are mainly used in making borders and for other decoration purposes.
To Get Answers to Your Most Commonly Asked Questions about Flower Bouquets
What is the purpose of a flower bouquet?
A flower bouquet is the best way of gifting flowers and expressing feelings and emotions towards someone special. It brightens up the day of a person who gets it and brings a big smile to his or her face.
One can present it to her wife on her birthday or anniversary. To congratulate someone on the new beginning of a phase is to best wishes. Also, children can gift it to their parents on Mother's or Father's Day. These bouquets were presented to loved ones to say sorry or even to say I love you.
How do you describe a flower bouquet?
A flower bouquet is carefully bound with various kinds of flowers, stems, and leaves. Each flower has a different color, appearance, and fragrance. The bouquet is secure by providing a stable base using a wrap around the base and flowers. It may consist of ribbon, paper, or another decorative material.
This wrapping not only adds to the bouquet's aesthetic appeal, Also help in keeping the flowers together, which makes it easier to hold and deliver. Overall, a beautiful flower bouquet is a thoughtful gift that can convey emotions. It is also used for celebrating special occasions or simply brightening someone's day with the natural beauty of flowers.
How do I arrange flowers in a bouquet?
For arranging flowers for bouquets. First of all, you have to make sure that you choose the flowers according to the occasion. It is necessary to have a meaning and deep sentiments for a bouquet. That easily expresses the emotions of an individual who is gifting it to someone for a reason.
The big stem flowers are placed on the outer layer, and the small ones are in the center. So that the outer layer of the big flowers protects the small ones from any damage. You have to make sure that the floral arrangement is symmetrical.
Additionally, you have to go with a stable base. So it can manage the weight of flowers easily and provide a stronger base for the bouquet.
How do you select a flower bouquet, either for men or women?
While selecting a bouquet, first consider the recipient's and his or her personality. For choosing a flower bouquet for women. It is best to go for vibrant and full of fragrance blooms. Women loved flowers like roses, tulips, lilies, or soft pastel colors, which add a touch of elegance.
Similarly, if you are choosing a bouquet for men. Then go for options like sunflowers or mixed flowers in bold tones. It creates a bouquet that reflects their unique style and taste.
Which flower gives the best appearance in the daytime?
When we are selecting flowers for bouquets or even for other purposes like decoration or organizing an event, We first need to consider the requirements of the purpose to be served.
So, if you are looking for day flowers, Then it is advised that you go with bold-colored flowers with vibrant colors or even with mixed flowers.
On the other hand, if we talk about the requirements for a night party or special occasion, Then one should try the flowers in a light-toned, soft pastel color. It helps enhance the beauty of the night with a combination of moonlight.
What flowers go best with roses in a bouquet?
Creating a bouquet with the choice of flower is a matter of every individual personal preference. The choice of flowers that go best with roses can vary depending on the color and grace you are looking for.
Roses are one of the most popular flower choices for crafting a bouquet. T.hey are also available in various color categories and can pair well with many other flowers. Here are some options from the list that can complement roses in a bouquet, such as hydrangea, matthiola, alstromeria, and carnation.
What flowers go well with hydrangeas in an arrangement?
While crafting a bouquet, first consider the color and texture of the flower. This will help you manage the overall look and style of the bouquet you want to attain.
You can try the mix-matching of the hydrangea flowers with other flower combinations. It can result in a stunning and unique floral arrangement that complements the bouquet beautifully.
Other than mixed flowers, the different colored roses, lilies, tulips, and altromeria are the flowers for bouquets. That create the best combination and present a beautiful outlook on the bouquet.
Conclusion
In conclusion, for crafting a bouquet, there are various options available. To make it beautiful or to add a touch of elegance to it. The above-listed flowers for bouquets are the best choice among other flower categories.
Each flower category has a different symbolism and vibrant colors. It's also a matter of your personal choice. To choose the flowers for bouquets according to your preferences and the requirements of the occasion.
As an online florist, we offer you the best combinations of beautiful flower bouquets. Also, with the fastest delivery services across the United Arab Emirates (UAE). You can also place an order by selecting a bouquet given on the site. You can also find a customized one according to the given details on your end.
There are various options available for flower bouquets online, and you will also find the best flower arrangement ideas.