Flowers have stood the test of time as a thoughtful gift and an evergreen symbol of love and compassion. Their dazzling hues, breath-taking freshness, and elegance make them the ideal token of affection. And when all is neat and orderly, they just cut dashes. 
A large bouquet of flowers is all you need if you want to find a creative approach to tell someone you love them. If you're looking to wow the apple of your eye, we've compiled a selection of best flower bouquets.
Beautifully vibrant and artfully arranged with fresh flowers, these are sensible options for drowning your loved one in adoration. It's possible to order a one-of-a-kind, tailor-made bouquet for any member of your family, whether they're your parents, siblings, friends, spouse, or other relatives.
Let's take a look at some of the unique and special arrangements we've created for you to make those special moments even more memorable.
Spicy Bouquet
This breathtaking bouquet of 20 ruby-hued roses is a stunning show of affection for someone you love deeply. The lush green leaves add an extra touch of sophistication, while the 10 hypericum and eucalyptus flowers create a beautiful backdrop. 
Wrapped elegantly in black paper, it's the perfect choice for a romantic partner or anyone who appreciates bold floral arrangements.
Calm Winds Bouquet
Indulge in serenity with this enchanting flower arrangement, perfect for those drawn to peaceful and calming hues. The bouquet soothes the senses with its fresh, vibrant, and delightfully scented flowers, featuring a harmonious combination of pink hydrangea, white lilies, purple Eustoma, white hydrangea, and wax flowers.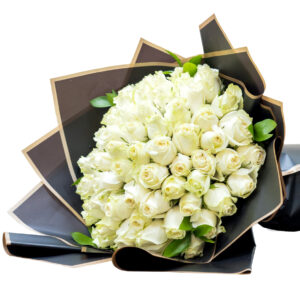 Wrapped in a regal shade of purple to enhance the overall look, this arrangement symbolises royalty and sophistication. 
Delicate Beauty Bouquet
Celebrate special moments with style and grace with The Delicate Beauty bouquet. Ideal for those who appreciate understated elegance, it makes a thoughtful gift for a loved one's birthday, or to express heartfelt congratulations for a coworker's promotion.
The bouquet is a masterpiece of floral design, featuring a stunning assortment of white hydrangeas, red roses, spray roses, and red anthuriums, expertly arranged and wrapped in striking black and white paper. To add a charming touch, the bouquet features a sweet, visible heart at its centre.
A New Day Bouquet
This bouquet boasts a harmonious blend of white and red tulips, elegantly wrapped in white paper with heart imprints. A cheerful and bright arrangement, it is the perfect choice to shower your partner with love or to greet your family with warmth. 
When you choose this bouquet, you can rest assured that it will arrive at its peak freshness, as if just picked from the fields.
Mix Rose Bouquet
This breathtaking bouquet is a stunning showcase of yellow, red, purple, and white roses, creating a captivating display that is impossible to resist. The petals of each rose are perfectly fresh and fragrant, providing an all-natural aroma that is sure to delight those who adore roses, warm hues, and the beauty of nature. 
To complete the presentation, the bouquet is expertly wrapped in a crisp white sheet and finished with a striking black ribbon, creating a bold and sophisticated look that will take the recipient's breath away.
For Her Bouquet
As you might guess from the name, this bouquet is for her. If you want to show your lady love how much you care, give her a bouquet that is full of crimson and deliciousness.
This floral arrangement features 12 red roses and 12 Ferrero chocolates, all of which are elegantly wrapped in black wrapping paper. Just give it to her, and watch as she falls back in love with you all over again.
Sun-Moon Bouquet
One of those bouquets that's full to the brim with a rush of sunshiney yellow and green blossoms. It makes a great flower arrangement for someone who likes bright, warm colours and arrangements inspired by nature. 
It has sunflowers, green hydrangea, eucalyptus, yellow spray roses, and a single ruscus, all wrapped in black paper with dazzling gold borders.
Designer's Choice – Blush & Pinks
With a touch of pink and blush, this bouquet is made up of cymbidium green, static blue, pink anthurium, Lipidium, pink spray, and Ohara roses.
Wrapped in white, it is perfect for those who want a unique and modern arrangement. It is one of our customers' favourite choices for events like weddings, engagements, and sending get well soon wishes.
Stylish Spring
The "Stylish Spring"  bouquet includes Sunflowers, Craspedia, Red roses, Hypericum, Spray roses, and Thiaspi. 
People who wish to celebrate the arrival of spring or want a floral arrangement that is both contemporary and fresh should buy this bouquet. Each flower in this bouquet pops up with colour and style from its almost beige wrapping.
Blue Perfection
The Blue Perfection bouquet is perfect for people who like cool, calming colours and tender flower arrangements. We can't help but exaggerate this beauty's sophistication and style. 
This bouquet is wrapped in white plastic and comprises a beautiful medley of blue Delphinium, Eustoma, white spray roses, Eryngium, and Lippidium.
Buy Bouquet Online – www.floralshopuae.com/bouquets