Cakes are always an important part of events for hundreds of years and hold a special place in our hearts. That implies happiness, being together, and the sweet times we have with people we care about. A theme cake can be a fun and personal gift for a special event. In this article, we'll discuss some of the best theme cakes ideas that will make your events even more special.
Why Choose Theme Cakes?
Theme cakes are more than just tasty treats; they are works of art that can make anyone smile. These cakes can be customized to show a specific theme, interest, or love, making them the perfect gift for many occasions.
Here are a few reasons why you should consider theme cakes for your next celebration:
Personalization: Customization is a highly advantageous feature of theme cakes. You may select a theme based on the recipient's interests or hobbies for any special occasion, such as a birthday, anniversary, graduation, or any other occasion. The options are unlimited, ranging from beloved movie characters to professional sports clubs.
Surprise Factor: A beautifully designed theme cake adds an unexpected feature to any party, delighting both children and sports enthusiasts when their favorite superhero makes an appearance on their birthday cake or when receiving one featuring their team logo!
Instagram Worthwhile: In today's digital era, everyone enjoys taking pictures and posting them online. A delectable theme cake not only tastes incredible, but can be the centerpiece of many amazing photos on social media feeds. Your cake may even become the highlight of the show!
Here are Some of the Best Theme Cakes Ideas You can send as a Gift
Now that we understand the charm of theme cakes let's explore some of the best theme cakes ideas that you can consider as a gift for your next celebration. To make it even more exciting, we've selected a few cakes from FloralShopUAE's cake collection, which you can order online for you or your dear one.
1. Cartoon Character Themes
Cartoon character-themed cakes are an easy, affordable and enjoyable choice. Mickey Mouse, Elsa from Frozen or SpongeBob SquarePants cakes bring beloved characters alive – take FloralShopUAE's "Bunny Theme Cake" cake as an example!
2. Sports Themes
Sports-themed cakes make great presents for sports fans of any kind. From football, basketball and cricket to hockey and golf – FloralShopUAE's "Boat and Sea Cake" cake offers something suitable for each sport's fandom!
3. Floral Delights Themes
To add an air of elegance, floral-themed cakes offer the perfect finishing touch. Adorned with beautiful edible blooms, floral cakes are a beautiful option for weddings, anniversaries, or any romantic celebration – FloralShopUAE's "Elegant Rose theme cake" cake is one stunning example of these extravagant treats!
4. Movie Magic Theme Cake
For cinephiles, movie-themed cakes make an ideal treat. Choose a cake featuring iconic film posters or beloved characters from classic movies; FloralShopUAE offers its "Movie Night" cake as an exquisite example of cinematic celebration.
5. Personalized Photo Theme Cakes
For an extraordinary and sentimental gift, choose a personalized photo cake. Your cherished photograph can be printed directly onto its surface for a truly touching and unforgettable moment. FloralShopUAE provides personalized photo cakes as a delicious way to honor and remember special memories!
6. Animal-Themed Cake Design
Give your celebration some added magic with one of these wonderful animal-themed cake designs. Every story behind each animal-themed cake brings smiles of happiness from people of all ages – making your next event unforgettable with these delightful animal-themed gift ideas!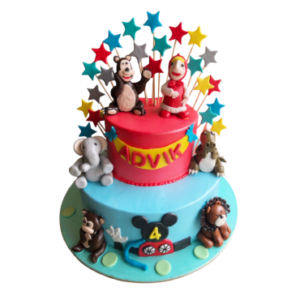 7. Aeroplane Theme Cake
The sweet delight of Floral's  Aeroplane Theme Cake – an eye-catching piece sure to elevate any celebration. Suitable for aviation fans and young pilots alike, relish this tasty treat that promises an exciting flight of flavorful taste buds!
8. Pet Lovers Cake
If you adore their furry companions, the Pet Lover's Cake "Cow theme cake"offers a wonderful way to show it. With edible figurines of cats, dogs and various pet accessories adorning its surface, this delightful treat makes an adorable way to mark their birthday or express affection towards four-legged companions.
9. Jungle Theme Cake
If your child loves jungle animals, this Jungle Friends Cake may make for an excellent birthday cake celebration! Packed full of playful figurines like monkeys, elephants and tigers for added charm at any children's birthday celebration!
10. Football Theme Cake
For sports fans, nothing beats a football theme cake as an indulgent treat! Shaped like the game and featuring stadium designs, such cakes provide fans with a delicious momento from their beloved sport.
11. Car Theme Cake
Rev up those engines! A car theme cake is perfect for little speedsters looking for an exciting birthday celebration. From racecars and other popular models, to even one that features your very own vehicle – it will bring any party celebration alive with excitement!
12. Cocomelon Theme Cake
Fans of Cocomelon will delight in an extravagant cake featuring their beloved characters like JJ and Baby Shark – it will provide an explosion of colors and happiness!
13. Frozen Theme Cake
Get festive with a Frozen themed cake! Elsa, Anna and Olaf come alive in this enchanted cake to bring Frozen fans an incredible experience.
14. Dinosaur Theme Cake
Venture back in time with this Jurassic adventure with a dinosaur themed cake featuring T-Rex, Velociraptors and Triceratops as you celebrate prehistory!
15. Rainbow Theme Cake
A rainbow theme cake brings happiness with vibrant layers and a rainbow design, making it the ideal way to spread positivity and spread joy!
16. Cricket Theme Cake
Cricket enthusiasts can commemorate their passion with a cricket theme cake that features bats and stumps! Designed to deliver maximum flavor, this delectable delight hits six out of ten when it comes to flavor!
Additional Info
As your imagination takes over, choosing the ideal brand themed cake for your celebration can be as limitless. From cakes featuring beloved cartoon characters or sports teams, to flowers in bloom and movie magic or personalized photo cakes. Whatever it may be – is sure to create lasting memories and impress everyone at your event.
FloralShopUAE's cake collection provides you with an impressive variety of theme cakes to make any celebration unforgettable. Their dedication and master craftsmanship ensure they deliver the ideal theme cake for every special event or celebration.
Select a theme cake that resonates with you and make the next celebration even sweeter and more unforgettable.